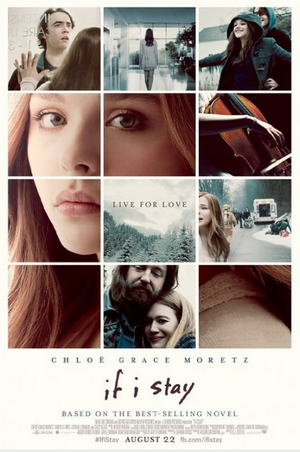 In December 2010, it was announced that a film based on the novel was in works at Summit Entertainment, in which Dakota Fanning, Chloe Grace Moretz, and Emily Browning were considered to play Mia. Chloë is officially playing the part of Mia. Catherine Hardwicke was attached to direct, but was replaced by Brazilian filmmaker Heitor Dhalia, who also left the film later. On January 24, 2013, Moretz was cast to play the lead and R.J. Cutler was announced as the new director of the film. On January 2014, Metro-Goldwyn-Mayer and Warner Bros. Pictures were released to distribute the film and set for release on August 22, 2014.
Movie Stills
Edit
Ad blocker interference detected!
Wikia is a free-to-use site that makes money from advertising. We have a modified experience for viewers using ad blockers

Wikia is not accessible if you've made further modifications. Remove the custom ad blocker rule(s) and the page will load as expected.